Product Update Summary
We would like to update you on the progress of some of our key product development themes.
Here is the February edition of the regular Product Update Webinars
 Full article link - Talis Aspire Product Update Webinar Feb 2018
 These webinars will recap on recent changes in both Talis Aspire Reading Lists (TARL) and Talis Aspire Digitised Content (TADC), advising of features and improvements in development or planning, and refresher sessions on areas of the system at key points in the year. There will also be an opportunity  to ask questions during each webinar.
Please check our Events page regularly for details of upcoming webinars.

What is Talis doing about General Data Protection Regulation (GDPR)?

The EU GDPR aims to unify data privacy laws and is becoming enforceable on the 25th May. We are currently working on a project to ensure we are compliant by this date, this includes changes to documentation, contracts, policies, our products and internal staff training.
You can find out more about what we are doing here
If anyone has any specific concerns, we ask this is raised as a support case.

List View Refresh

We have enabled 63 universities with access to the new list view so that they can review the new functionality and consider their approach to rolling out to students. We have 11 universities from our beta phase that have already completed their rollout so that all of their lists appear in the new list view. We will be enabling more universities for staff side review in the next few months, you will be contacted when this is available for your tenancy.
Development has been steadily progressing on the new list edit functionality and this is a continuation of the list view refresh improvements. As we start to release those features, we will be working with universities that already have new list view access to further enable new list edit features at a time to suit their rollout to academics.
We have released an improvement for List View when rendering long lists, which in turn will give a better user experience for List Edit. This has improved the performance times as a student navigates around the list and items on a long list.
If you have questions or wish to know more please raise a support case.
Considering your rollout options? Then the following article may help you in making your decision: Recommended steps to rollout the new list view at your University

Releases of Interest
Stay up-to-date with our releases by regularly visiting our Product Update page, where you can view all release information, including all improvements or fixes released in Talis Aspire.  The Product Update is available from the top navigation bar on the Talis Support site.  Releases that you may be particularly interested in are:
Talis Aspire Digitised Content (TADC)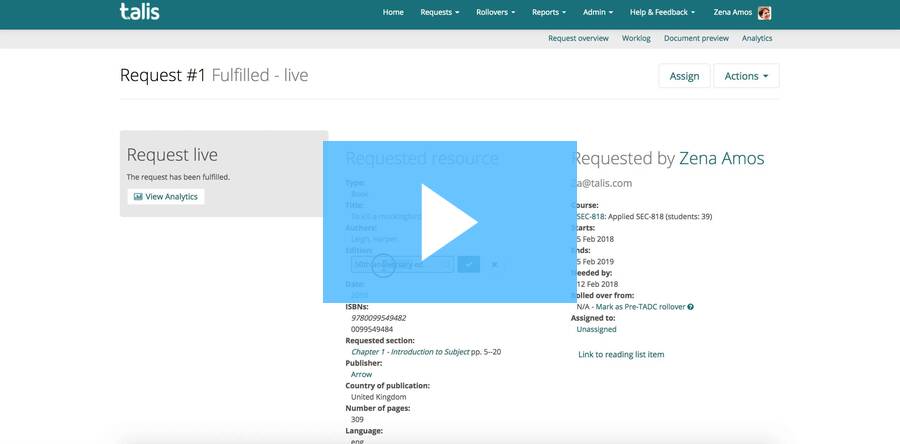 Replace Request - To replace a live request, whilst withdrawing the original and retaining links to the item in Talis Aspire Reading Lists, for corrections to data that require a further copyright and copy limit check - 

Replace request - Talis Aspire Digitised Content

We have made an improvement to the British Library API integration in TADC, as matching is not exact if the identifier (ISBN/ISSN) is not found, with some reports of High Matches returning unrelated items. We have made an improvement by adding an intermediate screen for you to confirm the right resource has been matched before placing an order, see updated article for details - 

British Library integration - Matching
Talis Aspire Reading Lists (TARL)
We have added Resource type(s) to the 'Student no.:' - 'View Breakdown' screen within Reviews as a consultancy request from London School of Economics. It was felt others may find this a useful addition so has been enabled for all tenancies.
Support Articles of Interest
Learning Tools Interoperability (LTI) integration We have recently updated the videos in this article to show the new list view. If you've had LTI on the backburner, are planning your LTI project for this summer or are considering a change of Learning Management Tool and want to see how the integration looks in the different software, head over to the article and take a look. Here is the Canvas video as an example: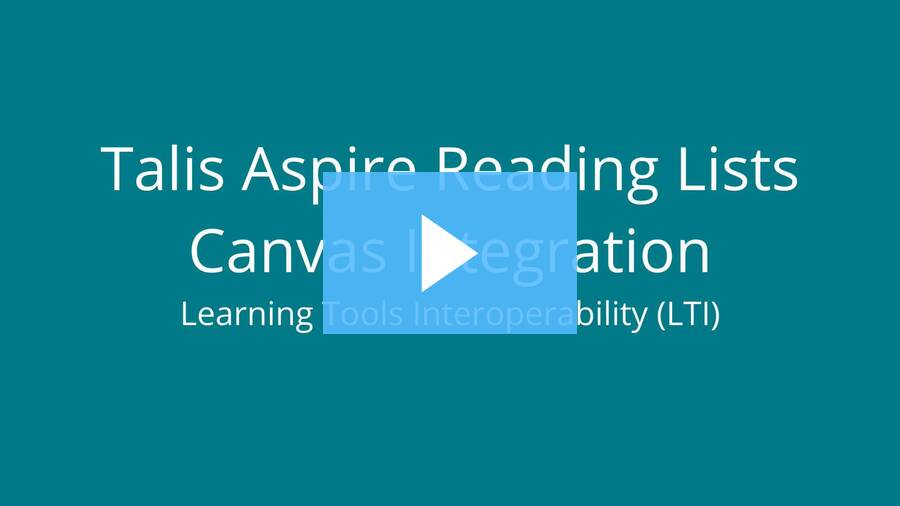 Using Importances in Talis Aspire

 - 

This article will help you understand how importances work within Talis Aspire, why you will find them useful and how you can configure them to work best for your institution
How Can I Escalate a Ticket?
If you feel your ticket is not being dealt with correctly, or the issue reported is urgent or time bound, you can escalate the ticket. To escalate, please email Alison Spencer with your ticket ID number detailing your concerns and telephone number. We will then work to review the issue and prioritise as appropriate, before updating you directly. We are also happy to arrange a catch up call with each university so that you can raise concerns or discuss tickets of note.  If you haven't had a call with us recently, please do log a ticket and we will be in touch to arrange. 

Community Contributions
Our Community Contributions continue to grow. We cover a wide spectrum of topics from time saving top-tips to making the most of Google Analytics. If you have something you wish to share with others then please let us know by raising a support ticket.
 
Bookmarking
Talis Aspire Reading Lists now supports bookmarking from over 260 different sources. You can see the full list of bookmarks that Talis supports in the following article - where can I bookmark from?
New or improved this month:
Emerald - Improved DOI identification
If you bookmark from a site and would like to see improvements, or if you've noticed that a site has been updated and isn't bookmarking very well anymore, please raise a support ticket. 
 
Developer Community
To join our developer community, please email consulting@talis.com.  To see past newsletters, please visit the Talis blog. 
 
Things to Think About
Would you like to organise a review with the Talis team? This would be focusing on getting the most from Talis Aspire and ensuring Talis Aspire is working as efficiently as possible for your university. Please email Alison Spencer (as@talis.com) to organise a call at a time that works for you and your team.
 
To keep up-to-date with the latest work that Talis are doing, do check out our blog.